Diwali 1991: Albert Theatre/Udhayam theatre:
The rain scene is shown. It is the Rajinikanth introduction scene in the movie. A phenomena never heard of in any other movie industry. This is when the excitement is at its peak. Manirathnam better than any other director knows how to whip up that frenzy. The evil police officer is being punched and he sways in the rain as a result of the impact of the punch. Then.. the puncher, Rajinikanth is revealed to the public. As he pauses in slow-motion in the rain to deliver another punch -- the noise of the theatre crowd is deafening. Currency notes are being thrown from the balcony seats, coins are being thrown. At least 300 people are whistling simultaneously. The atmosphere, to put it euphimistically is electric. Nobody outside TamilNadu will experience the emotion and the charge that the opening day of a Rajinikanth movie generates. People outside can barely comprehend this kind of mania (normally associated with Michael Jackson fans).
That Diwali the greatest war in Tamil Nadu's movie world was on. Kamalahaasan's eccentric and experimental Guna and Rajinikanth's Dalapathi are released on the same day. 8 of TamilNadus top actors like Sathyaraj, Prabhu, Vijaykanth to even Pandiyan release a movie each the same day. But Dalapthi rocks like no other movie. The explosive combination of Manirathnam, Ilayaraja and Rajinikanth lead the pack leaving everyone else behind. Although Guna was brilliant in patches, his movie as a raving lunatic who kidnaps a woman and dodges the police in the hills of kodaikaanal failed to impress. The war that year belonged to Rajini and Rajini only.
1992 Diwali, Udhayam /Albert / Abhirami Theatres: Rajinikanth is humbled. After an unprecedented sucess run of 4 movies (Thalapthi, Mannan, Annamalai, Yejamaan) his Panidan flops BIG TIME. Kamalahaasan's classic Devar Magan wins not just a national award but was India's entry into the forign film category at the Oscars that year. Kamalahassan won the war that year hands down. Sivaji Ganesan who played a cameo in Devar Magan knew exactly what the war was about. He had, once upon a time, weilded the same sword that Kamal then weilded. Unfortunately due to fan clashes and market reasons the two iconic stars mutually decided never to release a movie on the same day! ever again.

But not quite so!




Tamil Nadu, to an outsider, is in many ways a perplexing place. I personally think it's a crazy place filled with impossible people. When it comes to good ol' TN there is no middle ground.A freakish variant of dvaitham philosophy is prevalant. No kidding! Seriously! Hear me out -- A phenomenon is present and its complete opposite is also juxtaposed along with it -- just to make things interesting. Tamil Nadu always manages to evoke strong reactions from people all around the world. " ywack! I hate that place" to "oh! My god! It's the center of my universe". By some twist of fate or extreme sadism on the part of the powers in the heavens above -- a complete set of incongruous people have been thrown together to live in one single province. "When will these people realize that there is a world beyond Arakonam" my uncle in Pune would thunder in frustration, when most people in TN completely refuse to acknowledge the existence of people & civilization outside its borders. As far as any Tamilian is concerned the only bad thing in his state is the highway signboard which says " Bangalore 357 Kms". I would attribute the "extreme attitudes" to Darwin's you-know-what theory. The maniacal way in which it rejects all foriegn laguages is attributable to how it evolved historically. This is a state which houses the oldest language spoken in the Indian subcontinent and constantly boasts about Tamil being one of the 7 classical languages in the world. Its status of being the only lanaguage with an unbroken link of 2 millenia puts to shame even Latin ( which is apparently another classical language to have suffered many broken links). There is a kind of a fierce territorial instinct that almost rejects any thing that even remotely threatens its language. This rejection instinct seem to be encoded into the gene system.

The inherent incongruity is the key here. The sharp contrasts, oxymorons and the obvious contradictions makes the place look jarring homogeneous as well as unbelievably hetrogeneous. This is what confuses the outsider. In the land of temples where Tamil literally equals and rivals Sanskrit, in terms of religious texts and slokas, there exists India's biggest atheist movement. A movement which was so fierce in the late 60's that its diety breaking practices prompted the erstwhile freedom fighter Rajaji to pawn off Thirupathi to Andhra in exchange of the moolah-filled Madras to save Lord Balaji himself. Admist people who won't see beyond Arakonam, there exists a status as the 3rd biggest NRI exporting state in India. The land of agraharams and mad superstitious beliefs went onto to become the only state with the gall to arrest a religious head like Sankaracharyar. The quintessential Tamilian that Mr. Karunanidhi is -- has repeatedly lost to an rank outsider, a Keralite called M.G.Ramachandran and a perceived outsider (albeit incorrectly perceived as a kanndiga) Ms.Jayalalitha. John Woo would give his left hand to make a TN based story that would continue with his tradition of making a dvaithic A Vs B films ( you know where there are always two fierce rivals.. just two and they always have a gun pointed againt each other in close-up).

The movie world also has its ADMK Vs DMK kind of war between two fierce rivals. Unlike many places is in India, Bollywood is non-existent in Tamil Nadu. The popularity order is Tamil Movies -> Hollywood -> Telegu Movies -> Bollywood. Sharukh Khan could be a laundary detergent brand as far as people there are concerned ( just to emphasize the "land beyond arakonam" theory). This intense movie industry has seen two generations of Sivaji vs MGR, Kamal vs Rajini and Ilayaraja Vs A.R.Rahman. People have spent millions of hours debating who is the best ( you can include Gavaskar Vs Srikanth here). There is always the clear war between 2 people in TN. And suprisingly in a state which rejects outsiders, a hardcore native is always pitted with a non-native and the support given to both parties are almost equal. In the 50's 60's and 70's The quintessential Tamilian, the son of thanjavur and according to me the greatest actor to have ever graced the earth, Sivaji Ganesan, faced a fierce rival in the mallu that was MGR. Their kind of one-on-one clash for success and popularity in the tinsel world is something exclusive to TN alone. Kamalahassan, a native born in Ramanathapuram continued the tradition and waged a on-screen war with Rajinikanth, a Kannadiga. The Kamal Vs Rajini though it started off rather modestly grew into gigantic proportions in the 80s and early 90's. Surprisingly in both cases, the natives were the "real actors" and the non-natives the "pure entertainers".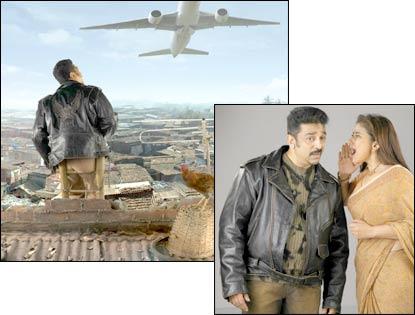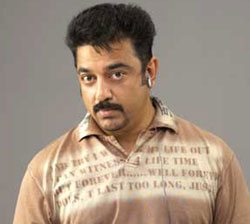 Kamal Hassan

Kamalhaasan has carved a niche for himself in the film world. Here is an actor/director who really understands movies and makes a bulk of the cutting edge movies in India. He falls into the "movie geek" variety. He is a genuine movie buff who can probably write a thesis on Kurosawa, Coppolla and Scorcese. He is a learned Bharathanatyam dancer, has also worked as a choreographer in movies and one who can talk at length on James Brown's dance moves. He is a singer and quite a good one at that. Apart from being India's best actor he can definitely write screenplay, dialogues and direct as well as any other person in India. His stories are well thought out, often rebellious and deals with subjects that either bring out the land's culture very well or causes the people to think deeply of values and issues. He is unbelievably articulate, has pretty strong viewpoints, definitive goals and can talk about writers from Betrand Rusell to ancient texts like Purananooru and Tholkaapiyam. In short his is the resume every aspiring actor wants to have. Although any avid movie buff would salute in respect to Mr.Kamalahassan, he would not get any points from the traditionalists on the topic of his personal life. He is a suspect atheist and critisises, quite openly, societal structures like marriage and relationships. People (the ones who usually dont get his viewpoint) hate him passionately and ladies ( ofcourse! there are the ladies) dislike him for being the "womanizer".




Rajinikanth:
Rajinikanth is well... Rajinikanth. Nobody can say anything more! He is the complete oposite of Kamalahaasan ( Remember we are talking incongruency and Tamil Nadu here). While Kamalahaasan has 2 wives ( and 2 divorces), 2 children outside of marriage and is alleged to have been involved in many temporary relationships, Rajinikanth has quietly setup a family life and established a healthy position in the society. He is deeply religious (and so has impressed the "ladies" and family crowds) and unlike kamal not a ruthless person ( he would be willing to let go of smaller gains for a larger spiritual gain). As a person he is anything but articulate. He has no personal views and rarely, if ever, makes a profound statement. He is as superficial as it gets as far as movies are concerned. Often his movies have no plot, nothing of substance to offer. His dialogues are colloquial and simple. Unlike Kamalahassan who was a child artist, and worked his way up as a choreographer, side actor, assistant director, actor, director. Rajinikanth moved from being a bus conductor straight to an actor. Rajinikanth is the lottery ticket everybody wants to win. He literally hit the jackpot and has cultivated it admirably. Rajinikanth has several things going for him. He has a lovable persona, and is easily darling of the masses ( at least 3 times as popular as Kamal is). His style thing (the way he tosses and catches a ciggarette with his mouth) certainly sets him apart and is quite catchy. So catchy that the Japanese love him like anything and call him the Dancing Maharajah. While only a small cross section of the society has the intelligence to grasp Kamal, Rajini's messages are simple and can be understood by the common illitrate man. His plot lines are usually humorous and very entertaining. His movies are usually the perfect entertainers where you can just go have fun and come back. His main claim to fame was to make the common man identify with him. While for kamalahasaan the story comes first, Rajinikanth stories are usually tailor made to support his role as a average joe who falls in the middle-lower economic class category.





After more than decade of silence these two have decided to release a movie on Tamil New Year's day. The last time they released together Sun TV had not yet setup shop, Star TV was just peeping inside India and ARRahman had just done 1 movie. Although Ilayaraja ( possibly India's greates music director and probably the only and last person to lay claim to the composing hall of fame) as the Music Director of Mumbai Express seems to have outlasted A.R.Rahman ( who has no release this time), the truth is Ilayaraja is composing because of Kamal's strong preference for him. The actors careers have changed considerably. Kamalahaasan has gone one to bigger and greater heights as an actor and director. Rajinikanth has reached unimaginable heights of popularity (to the point of even contemplating a political career which he embarassingly had to forgo). Kamalahassan, this time, is coming up with a bilingual(in Hindi and Tamil) called Mumbai Express. Rajinikanth is doing a remake of a Malayalam-telegu-Kanada movie called Chandramukhi. While Kamalahassan as usual plays an atypical role of a circus bike rider ( you know how they dangerously circle a big sphere). Rajinikanth surprisingly ( and unusually) plays the role of a psycologist ( wow!) in a movie that promises to have a good story line ( the Kannda and Mallu versions are incredibly sophisticated it seems). The excitement is understandably high. I can't help but feeling that this is the last time such an event is about to occur. With the next generation stars diluted and multiplied, I do not forsee the dvaithic wars anymore. Ofcourse the new generation folks like Vijay ( ya and Bipasha is in Sachin) and Dhanush ( in Balu Mahendra movie) who are releasing a movie the same day are serious contenders.

Will the older Generation win? In the last battle of Rajini Vs Kamal who will win ? I can't wait until April 14 to find that out.